vege-gardens in fall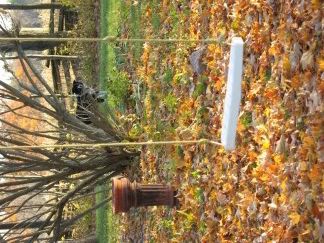 Under this shrub which I think is a beauty bush, Ann has planted some iris, artemisia, heuchera, daylily, bee balm, and hosta. A pretty statue of an angel stood there too, this past summer, holding a silver gazing ball. The angel resides in the safety and warmth of the basement at the moment. Tasha is in the background.
In the closer bed, with the clay birdbath, Ann planted some sedum, the white variegated-leafed iris, some daylilies and magenta-coloured pelargoneum. The pelargoneum is cooling its heels in the greenhouse.
This area is to the east of the vege-gardens (view towards to south), so the vege-gardens would be just to the left of that big shrub above.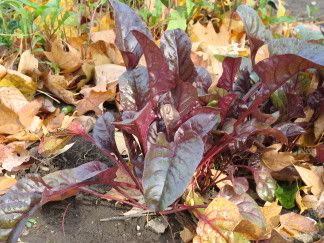 The ruby chard in the vege-garden continues to grow, not minding the frosty nights yet--it isn't that cold really. (We did have our first sprinkling of snow last week.) I haven't harvested all the beets, or arugula yet either. The lemon balm continues its leafy green, the dill and parsley have self-seeded about a little. I really hope the cilantro will do the same. Yesterday evening's supper included the most flavoorful and tender brussel sprouts from our own garden! All I needed to add was a little butter and salt...
a picture of one end of the vege-garden with "gates" of old iron headboards. We would still looking southward. The benches were made by a sweet man in Manilla (Ontario), who also sells perennial plants for as little as a dollar. Yes, you heard me, a dollar. Many of his flower beds are exactly that, "beds". Framed by old beds, headboards, etc, he never steps in them. The plants must appreciate the conditions: one summer I saw echinacea there that towered over my head.