a room of one's own -- I
Part of the rituals associated with the turning year is the making of New Year's resolutions. As I pondered what I wanted to change, I had a look at what I already liked about my life. Part of what I like is my work room/studio.
Other than clearing out what was there and sweeping and washing the floor before I moved my boxes in, the room is pretty much as I found it: weird pink walls, terribly dirty grey ceiling, dark-stained wood floor that is scratched and paint-splotched. It has two windows, one facing south and the other west. It took a long time for me to unpack my boxes, and all the stuff needs an organizing hand, but I love my mess.
So for the voyeur, here's a short tour:
Let's peek in the door -- oooh, it seems to be dark in there. Are you sure you really want to see this?
Immediately inside the door to the left is a basket full of waste paper with a cardboard box on top.
What's in the box? Well, as I slowly unpacked those moving boxes, I came across some stuff that belonged to my youngest daughter, like these dance shoes.
I really need to remember to take them to her the next time I go to town, don't you think?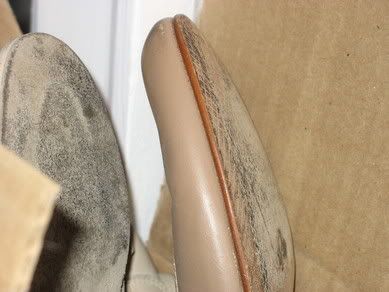 Careful, there! You have to step over the pile of books and papers that are on the floor, conveniently beside the chair to my desk. Hah! If you think that's bad, you should see the pile of books beside my bed -- approximately 40-50 is my best estimate. No, I can't shelve them, because I am currently reading them...
Part of my desk-top view to the left of my laptop...I know, those dried roses are just dust collectors, aren't they? To the left is one of my paintings. A detail from the painting is below.
To the left of my laptop, under the printer, is part of the setup that holds up the desktop (an old solid wood door). To the right is a simple loom, a cork board and a handmade checkers board (made by my very resourceful dad many years ago).
Under the south-facing window, several plants reside on top of an old filing cabinet. And in front of them, perched on a couple of stools, the New Zealand flax are waiting out the winter.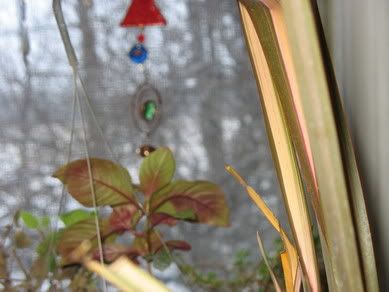 In the southwest corner is an open shelving unit full of my stuff, supplies for artwork, soapmaking, spinning, kn
itting, etc.:
...to be continued.