whirl winds & kindness
I'm trying to stay calm, really I am. Most of the time, I have been enjoying myself during this run-up to the holidays. I've been shopping and knitting and partying and watching back-to-back episodes of "Monarch of the Glen" as I knit.
As usual, the ideas I had been contemplating and canoodling over for months, suddenly have become last-minute projects that I am slightly worried I will not finish on time. Unfortunately, this is normal for me.
Every Christmas Eve day, I am out there with all the other last minute shoppers. It is fun. The majority are smiling, pretty relaxed and resigned to be among the rest of us unorganized, slightly frazzled, unwashed masses in the whirlwind of anticipation and preparation.
In total constrast to me, I was priviliged recently to attend a dinner party, given by one of my uber-organized peers at my paying job. Some, unfairly I think, call her "martha", with a bit of snideness. I, however, fully acknowledge my wistful desire to be able to throw parties like the one she gave us, and with a tinge of jealousy, admit that I probably never will. But I am very grateful to have enjoyed a party put together with such care, such generosity and such attention to detail.
I am intentionally not mentioning her name. You will understand why in a moment. She did ask us to contribute $10 each, as this event pretty much was the "staff party" this year. As you can see from pics below, this probably didn't even cover the cost of the party favors at each plate -- handmade chocolates, beautifully wrapped. The surprise was that she chose to donate our contribution to a needy family, rather that using it to offset her expenses. This is why I believe she would rather that I not tell you her name. Although I know she really enjoyes lavish entertaining, she did not do this for her own glory. I believe the whole evening was a wonderful gift to all of us from the most beautiful, brave and generously loving place in her heart. (excuse me while I wipe my tears and snuffle most inelegantly into tissue, right now)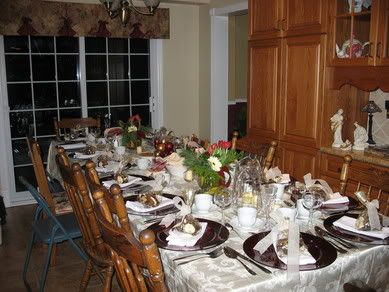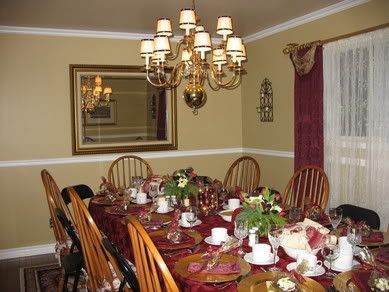 This brings me to thinking about kindness. In a recent interview on television, the Dalai Lama said he believed the world is more like heaven than hell -- this inspite of the constant stream of war, murder, hatred and mayhem that we see on the news. We do hear in Canada that crime rates are going down, but the content of each newscast is still pretty much the same. A rare treat this season has been the odd story about kindness. Perhaps its the season, perhaps not!
On
Tapestry
, Dec 18/05, on CBC radio, Mary Hynes interviewedMarc Barasch, author of
Field Notes on the Compassionate Life: A Search for the Soul of Kindness.
At one point, he made the point that people that he interviewed for the book, people who had made some kind of extremely generous gift --eg, donated a kidney to a stranger--believed that the world is a generous place. Should their one remaining kidney fail, they totally believed that someone would donate one to them. They did not believe they had done anything out of the ordinary. They believed they had done what anyone would do. And don't we hear that all the time from people who have done something generous or heroic?
The other thing that struck me was that Darwin mentions "survival of the fittest" barely half a dozen times in all of his writing. He was, apparently, disappointed that this was used to support the crassest kind of capitalism. He did observe and wrote at length about the supportive behaviors of animals towards the weaker among them and felt that these behaviors did more to ensure the survival of the individual as well as the species. Why did that get pushed aside?
Anyhow, the great generosity that we see at this season is a lovely reminder of the kindness that we can be capable of at every season and elicits from me tears of gratitude: gratitude for the love and kindness I receive and gratitude that I have something to give as well.